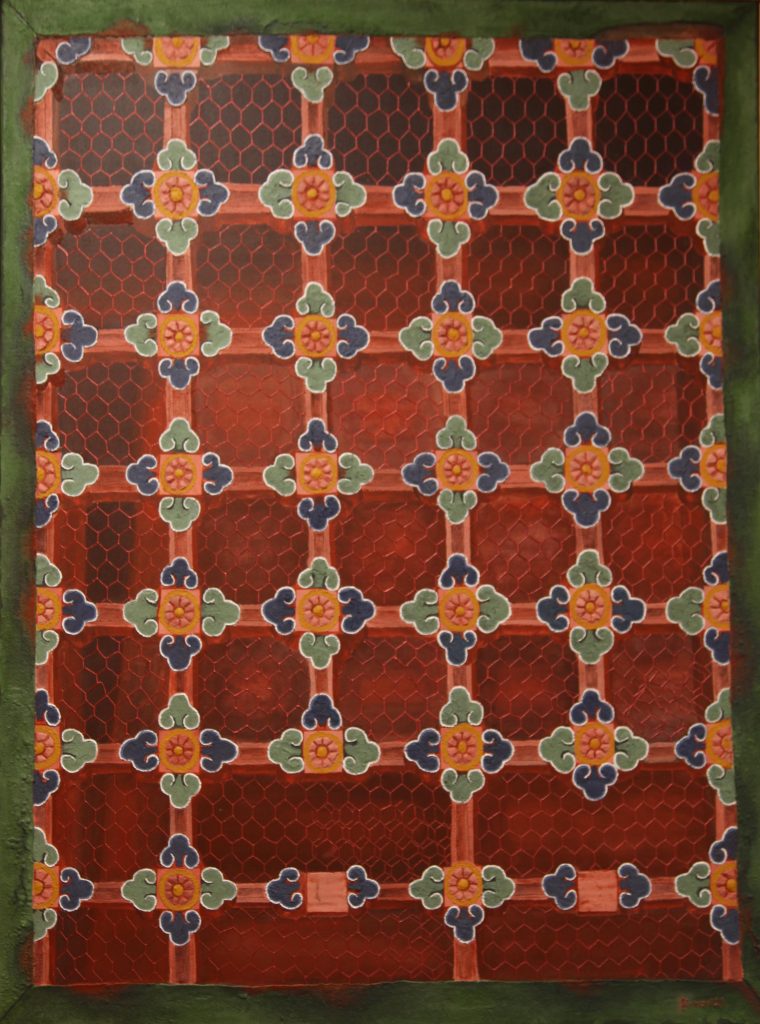 Art Description
This piece was created after seeing a traditional wooden window at Thada goemba. Right after seeing the window I was enraptured by its beauty that I had to turn it into an art piece.
I have always been inspired by our traditional motifs because every element on the motif has its own deeper meaning and symbols attached to its shapes and colors.
Artwork Specification
Title: Gochu
Year: 2021
Dimension: 92×122 cm
Medium: Acrylic
Price: Nu. 80,000/-
About the Artist
I have been with the VAST Bhutan family since 2004. I studied and completed BA in graphic designing at BeaconHouse National University in Lahore, Pakistan through a scholarship that VAST Bhutan offered me. My inspiration started with my brother encouraging me to draw and through my father, I discovered VAST Bhutan.
My mother often tells me that I used to doodle before I could even write. To hone my love for art I started taking art classes when I was 12. To me art is everything and anything that we do every day. I consider art as a therapy, companion and meditation.
My inspiration usually comes from the surrounding nature that I live in and as my mentor once said, "Nature is the best teacher". Art makes me feel grateful and cheerful every day. It has helped me to grow into the person I am today.
When I create art, I feel gratified because I let all my emotions flow through my heart to my brain, then to my fingers and then onto the canvas. As photographs are the visuals of that moment, likewise my painted canvases are visuals of my feelings.
And the best thing about being an artist is that you can express anything with various colors and forms that exist in your imagination.
Born 1992, from Punakha
Connect with the Artist
Buy the artwork to support the Artist & VAST Bhutan
We will send you pricing and payment details of the selected painting.
Share this Artwork