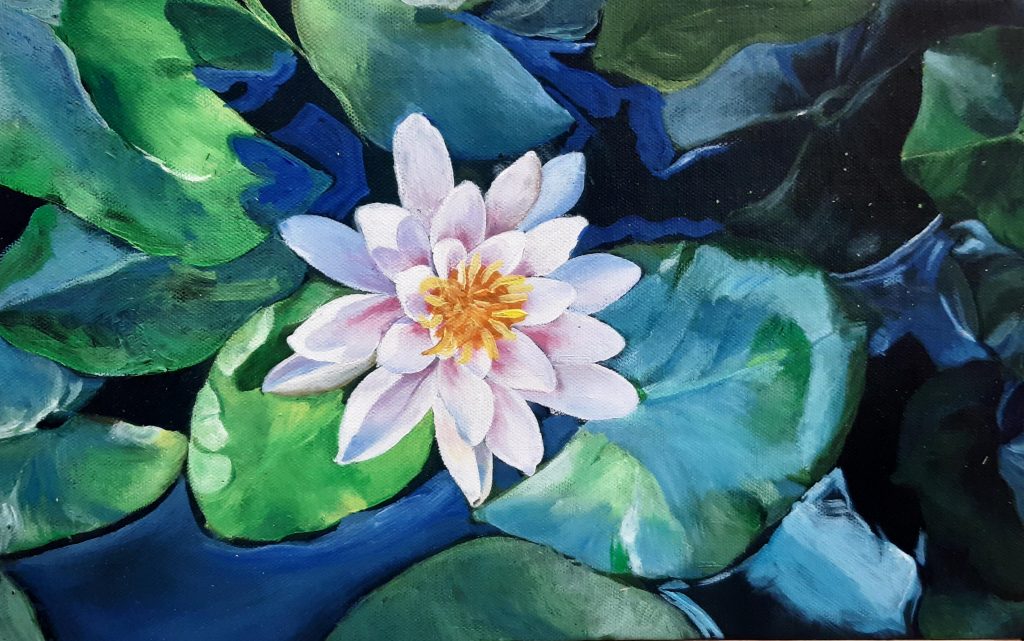 Art Description
–
Artwork Specification
Title: Lotus
Year: 2021
Dimension: 36×23 cm
Medium: Acrylic
Price: Nu.12,000/-
About the Artist
I was introduced to art in 2008 and started my artistic dream in Class Six when I was inspired by my sister who used to draw. My father introduced me to VAST Bhutan for which I am eternally grateful. I discovered a platform that gave me innumerable opportunities to learn and grow. I am one of the many recipients of the VAST Bhutan art scholarships. To increase my skills in art, I completed my studies in Applied Arts from Maharaja Sayajirao University of Vadodara ( a renowned art college in India) in the year 2020. I am currently interning at VAST Bhutan trying to give back the kindness that I have received.
I mostly paint portraits and landscapes but also enjoy making illustrations/designs. The tools I use to create are pencil and acrylic. I love painting landscapes as it gives me a peaceful feeling and I can fantasize about how my happy place looks. Portraits give me an opportunity to play with colors and they make great gifts for the people I know. I enjoy painting portraits of elderly people and young children, and their genuine expressions of joy and happiness is what I want to capture.I want people who view my work to be happy and at peace. I would want to be known as a realistic artist as I love to do more detailed work and can patiently spend time on each of my creations. My love for detail began when I was studying graphic design. The detailing works really helped me cultivate my patience. Raja Ravi Verma, an Indian artist and Michelangelo's works are my all time favourites.
Born 1996 , from Sarpang
Connect with the Artist
Buy the artwork to support the Artist & VAST Bhutan
We will send you pricing and payment details of the selected painting.
Share this Artwork