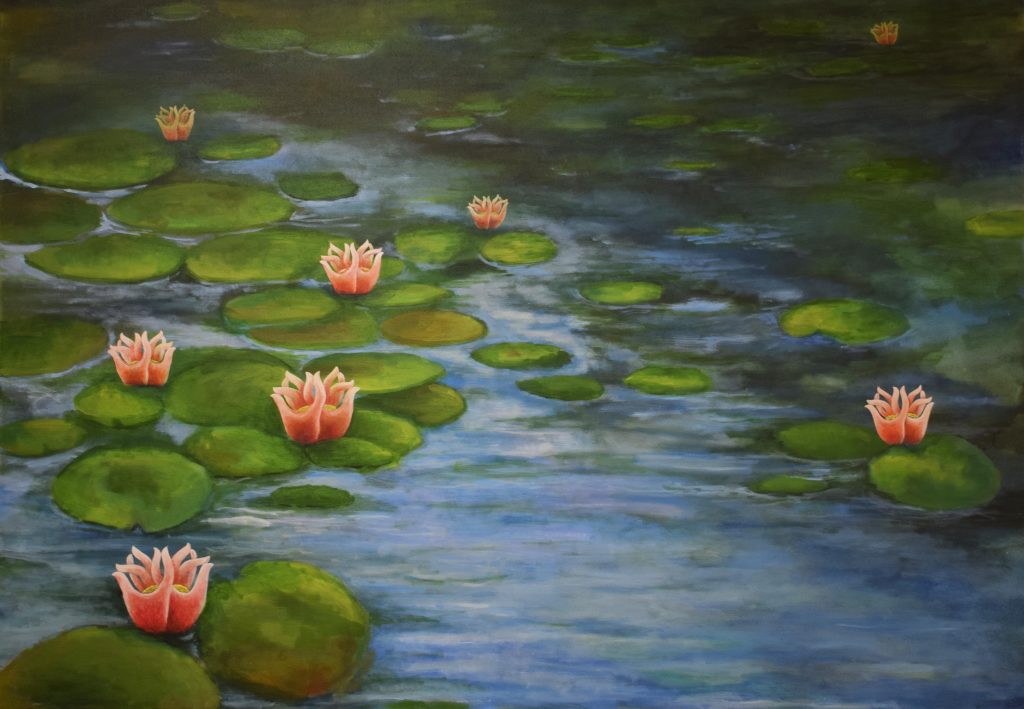 Art Description
Amidst the dark and deep muddy pond
Deep-rooted stems rise up to the surface
And the lotus blooms, her petals open to embrace the light
She is the symbol of purity, she is the symbol of beauty.
As I meditate and fold my fingers into a lotus mudra
I open my mind to all the confusions borne from my ignorance
I dive deeper to seek and then Ii shall find the inner Buddha within me
I shall be the symbol of strength, I shall be the symbol of light.
Artwork Specification
Title: Pema Mudra
Year: 2021
Dimension: 122×92 cm
Medium: Acrylic
Price: Nu. 90,000/-
About the Artist
I graduated with a BA in Fine Arts from Beacon House National University in Lahore, Pakistan. After a year of internship with VAST Bhutan, we are now working on a huge and exciting project of turning our international airport into an art gallery.
My inspiration is my family. I was introduced to VAST Bhutan by my late brother who was so loved and held there. I feel so grateful because he lives on in all of our hearts and has left a legacy in the way he lived and created.
I would like to work with more specialized interests in skills related to sculpture and oil paintings.The method and technique I used for my paintings are mostly acrylic as I find it easier to work with. I am so glad I was able to engage and commit to various projects through VAST Bhutan because it's a beautiful and authentic way to stay connected and really learn from and with each other. The most recent big scale project we completed was the Haa Mural Project in July 2020.
Born 1997 from Lhuentse
Connect with the Artist
Buy the artwork to support the Artist & VAST Bhutan
We will send you pricing and payment details of the selected painting.
Share this Artwork