Artworks
About Zekor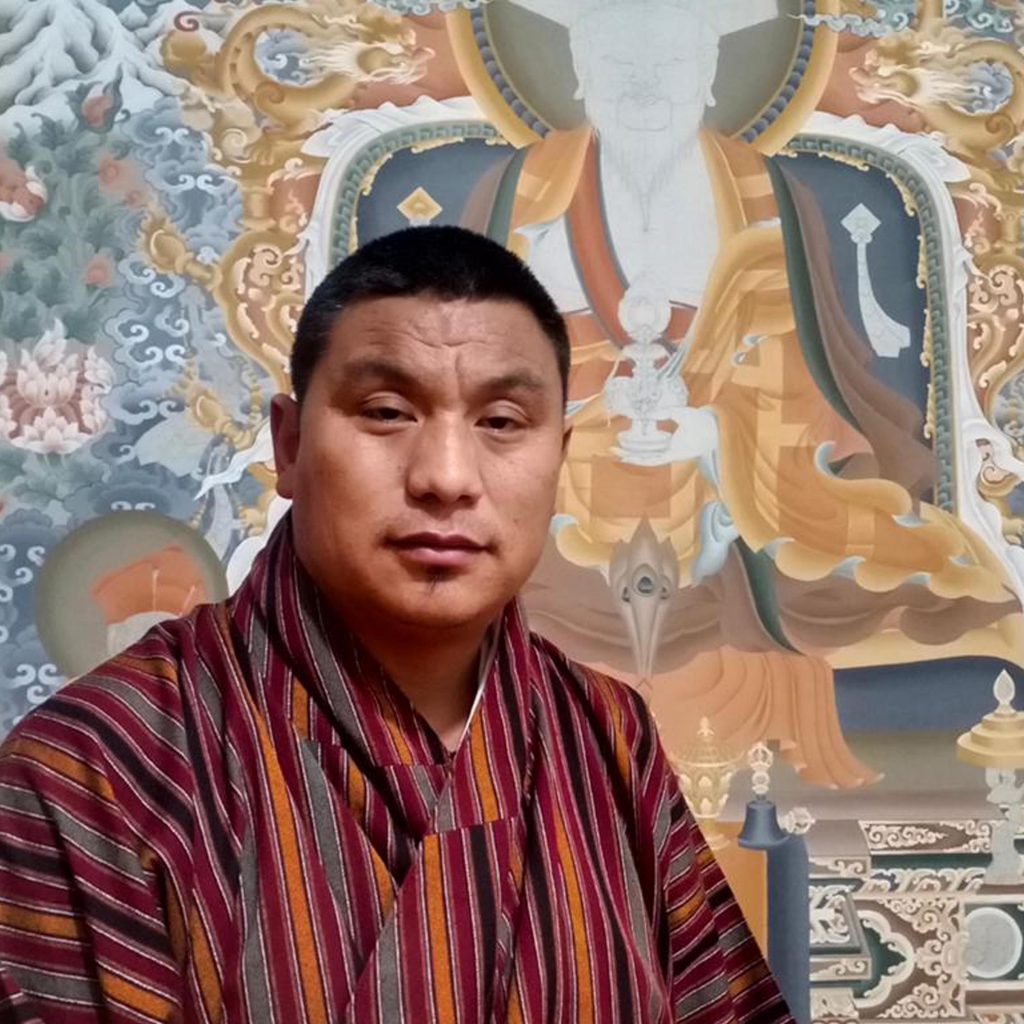 As a young boy I would always be awestruck by the artwork while visiting monasteries and lhakhangs. In school I would copy the traditional works of art.
I studied at the National Institute of Zorig Chusum ( School of Thirteen Crafts) from 2004 for five years. With guidance from my teachers my passion in art grew. My teacher would always say, "Anyone who gives you work, do it with perfection. Their happiness in seeing your work will bless your path too." I was determined to work with only the intention of painting passionately with perfection.
I started with painting traditional Bhutanese art on altars and tables. Assisting my teacher in painting statues of deities, gods and goddesses led to many more different projects including being selected as one of the painters for two years of Druk Wangyel Tshechu (Dochula Cham) under the direction of Dasho Karma Ura. The most liked and sold artwork that I did was of a hand-written mandala which took me two years to complete. The Thangka scroll painting that I did for Dasho Karma Ura is still exhibited at the Bhutan Museum in Japan. The project also included painting the ceilings of a member of the Royal Family for which I used pure and natural Bhutanese soil colours (Satshen). It has now been five years since I used the natural colors. My works are displayed at the Zhiwa Ling Hotel in Paro where I did eight Thangka scroll paintings of Choephel Lham, At Tashichoe Dzong in Thimphu I did twenty one versions of Palden Lhamo in Lhamo Domchen and a few fortunate ones from there have been included in the inner sacred sanctum (Dukhana) of Tashichoe Dzong which is open only for the Je Khenpo and our Kings. I have apprentices who learned to work alongside me and painted the ceilings and now have gained other projects assisting me.
With the help of a supporter I have exhibited my works in Delhi, India. The 21 Taras Exhibition was sold out within three days, which led to getting many orders and without rest I got working on it. I was informed that two artworks were bought by Suzanne Roshan, Hrithik Roshan's wife then and the exhibition also was published in Indian newspapers. A total of 3 exhibitions were done in Delhi even though I did not get to be present there.
The religious depiction in my artworks might connect to individuals who have faith in it, the color and the patterns hopefully might bring peace to the audience. My creations- besides making me an independent individual who aspires for perfection in his works- also makes me grow as a person. The aggression I had as a young boy has slowly been made milder because of the teachers I have met in the art world and also for the artworks that I have created till now which have solidified my identity.
Born 1983, from Wangdue, Phobjikha
Connect with Zekor